The LR Refurbished Program
Looks like new, works like new
Shop more sustainably and save money while enjoying 100% better light for your home.
Sign up now!
Why refurbished?
We hate disposing of good things, yet we love to give you wonderful light for less. The world definitely needs less e-waste, so with a refurbished lamp or lampshade, everyone wins!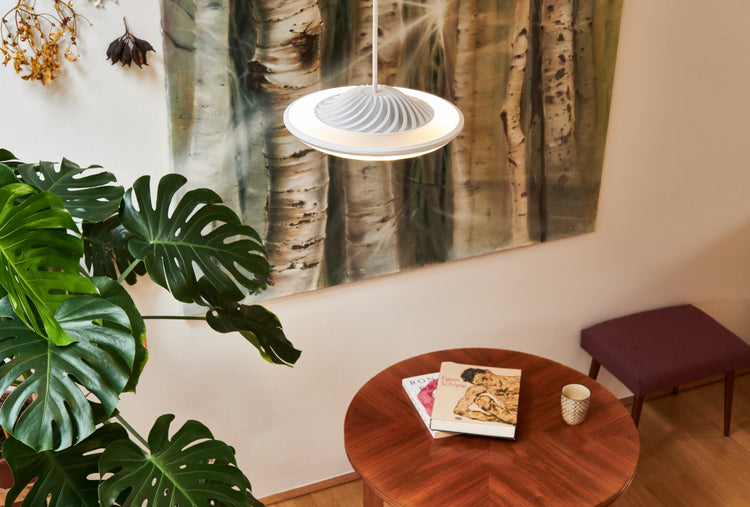 Refurbished
Checked, cleaned & repacked
If a luvo or a bloom was already shining somewhere else, it is no longer considered a new product. 
But to ensure it behaves and looks like new, we carefully inspect, repair (when necessary), and clean it before repacking. After this general overhaul, it gets the "refurbished" label - and you get a lamp or a shade without a flaw.
How does it work?
Sign up here.
We will send an email as soon as we have refurbished products in stock.
Click on the exclusive link and enjoy a reluvo at the special price of 499 € or a rebloom for 129 €.
Our refurbished lamps are limited in color and availability. The faster and more flexible you are, the higher the selection.
Same, same not different
Whether refurbished or new, your benefits remain excellent. And you invest in better light with zero risk.
Still have questions?
You want to know more about our lamps or just want to say hello?
FAQs
Sign up for our list on this page. As soon as we have enough units in stock, we will send you an email. Please note, color and availability may vary. But you will always get the our refurbished products at a special price.
The same rules apply as for a new purchase. In case of technical defects, we give you a three-year warranty. If, for example, the lamp can no longer be switched on or does not behave as intended, simply contact our support team by email or arrange a video call.
Please keep in mind, after your own tinkering or other DIY projects with the lamp, the warranty is void. However, we will be happy to help you restore the lamp – when possible – to its original condition.
You have a whole year to test our refurbished products and all their features. If you are not happy within your 365 days of trial, you can send it back to us free of charge. Just contact us by email with all the details of your order. We will then send you a return label.
We are sorry!
The message didn't make it through! Please reload the form and try again.


or send as an E-Mail at
Thank you for your Message!
You will receive a confirmation email in a few moments.

For further communication, please use ticket number: