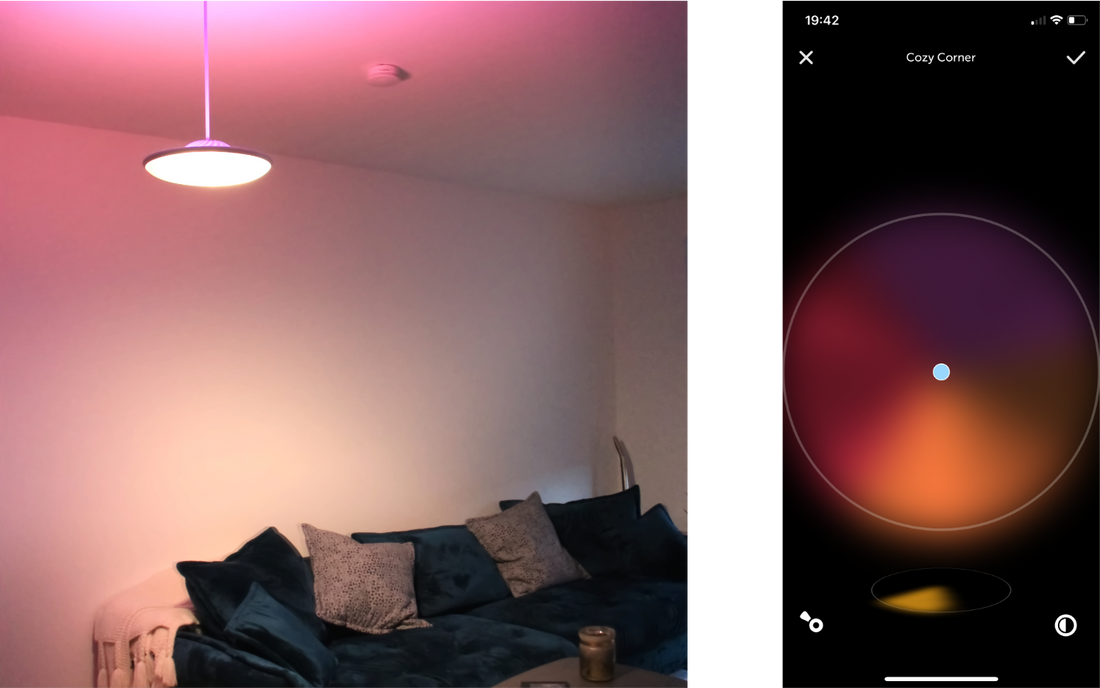 The most popular light scenes of the Luke Roberts team
We at Luke Roberts are not just manufacturers but also serve as our own toughest critics. Each and every lamp must meet our personal, high quality requirements. This extends to every product touchpoint including the app where our carefully selected, pre-installed light scenes can be found. They are designed to maximise user experience and enjoyment whilst providing examples of the kinds of effects possible and use-environments that can be achieved to get your creative juices flowing!
Most of the scenes presented here are examples of such pre-installed scenes that have been adapted with small changes to personal needs and living situations.

In addition we have used the screen sharing function to share our favorite scenes with you. Just follow the link!
Lucy
This is my go to light scene when I'm in the need for some relaxing down-time. I just love the warm hues from the uplight and it combines so perfectly with the soft downlight spot to make my sofa corner so warm and inviting. I just grab my kindle and a cup of tea and can while away hours here.
Link: https://cloud.luke-roberts.com/s/kbt8ajcg
Bernhard
Artificial light is unfortunately necessary. Especially on dark days. But is it always a bad thing? Imagine a typical dark day: cloudy, cold, possibly even raining. It affects the mood indoors, also creating this dark and cloudy environment. We feel forced to turn on the light making the whole day look like a long evening. For me this situation is always strange and disturbing. Even a smart lamp can not change this, but the possibility to have high quality, indirect light really does.

Autumn is a standard scene found in our Luke Roberts app. No matter the weather outside, it manages to make the room brighter and friendlier. The fresh tones from the indirect light are reflected from the ceiling and give the impression of an open sky. Especially in a north-facing apartment, the possibility to use light flexibly and selectively is worth its weight in gold.
Link: https://cloud.luke-roberts.com/s/a8d2evtr
Robert
I have a luvo (former Smart Lamp Model F) with lampshade Bloom in my living room. We use the living room to work, have a glass of wine with friends, watch TV and relax on the couch. My favourite light scene is called "coming down". The discreet orange indirect light in combination with the lampshade creates a very pleasant and relaxing atmosphere. We use this light scene almost every evening before we go to bed.
 Link: https://cloud.luke-roberts.com/s/kbt8ajcg
Arthur
The Evening scene from the standard app scenes is one of my favourites to use at night. It is gentle on the eyes and doesn't dazzle or mentally wake you up, like cold white light does. The indirect lighting in my 20sqm bedroom provides more than enough light to see everything clearly, and I also find colorful lighting generally appealing.
 Link: https://cloud.luke-roberts.com/s/wua712uf
What are your favourite scenes?
Post a photo of your favorite scene on Instagram with the hashtag #LukeRoberts. We would love to see our lamp in action at your home!