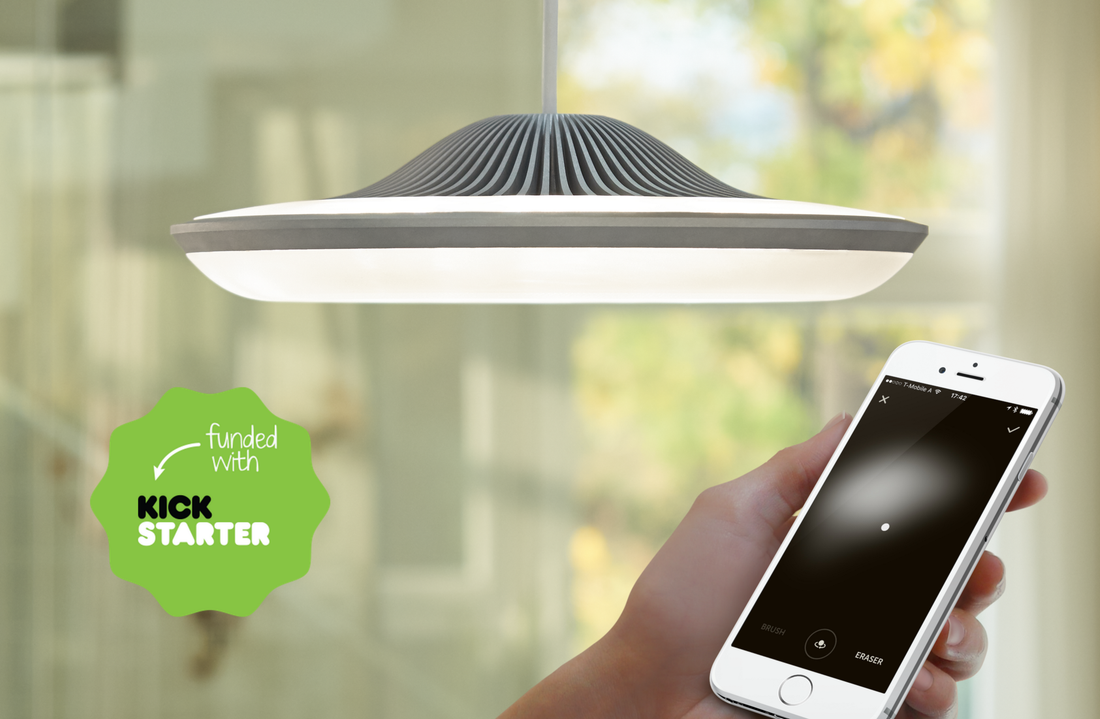 How We Prepared our €410.000 Kickstarter Campaign (1/2)
Crowdfunding is an awesome tool for startups to proof product-market-fit and show that there are people out there willing to pay for your product. Getting feedback and support at the end of the development process is great and investors like seeing that you can sell your product.
We launched our product, the world's first smart design lamp, on Kickstarter in December 2015 and received more than €410.000 ($450.000) from almost 1.000 backers from around the world. Since this success, many people asked us for advice regarding their crowdfunding projects. This is why we wrote this blog post to give you a recipe that will increase your chances to succeed. There are a lot of how-to's out there, but most of them miss the one point that we think is most important: preparation!
The success of most crowdfunding campaigns is determined before they even launch. A lot of founders get fooled by the number of daily users each of the crowdfunding platforms have: 10 million monthly visitors does not mean that 10 million people will be looking at your product! You need to get a crowd of people excited about your product before you launch and only after that, a broader audience will even have a look at what you are doing, and the platform effect kicks-in. Here are the steps that we took:
1) Find the right crowdfunding platform for your product
Kickstarter and Indiegogo are great if you have a consumer product and want to sell in many different countries. But, depending on your product, one of the smaller platforms might be better suited, especially if you have a special purpose product or only want to sell in a certain geographical area. There is no point in sending 5 pieces of your product to South Korea and 5 pieces to New Zealand, if you don't intend to operate in these areas after the crowdfunding campaign.
The main reason for picking a platform should be the likelihood of your target customers knowing and trusting the crowdfunding platform. The largest audience doesn't help if it is the wrong audience.
2) Analyze as many products as possible on the platform
Whichever platform you choose, make sure to analyze as many campaigns as possible that are related to your product. You need to understand the strategy successful and unsuccessful campaigns used, related to pricing, length of the campaign, language, product description, day of launch, questions raised by backers etc.
This analysis will give you a good feeling if the platform's audience is the right one for your product, if your pricing is right and your financial goal is feasible on that particular crowdfunding platform. Another advice is to talk to as many project creators as possible to learn from their experiences. Most people are happy to help.
3) Develop a press strategy
Press coverage is crucial for every crowdfunding campaign. We believe, that however great and innovative your product is, it will not be successful without press coverage. Read the newspapers and blogs that your customers read and get into contact with journalists that write about your product category. Have a look at other crowdfunding campaigns in your industry and try to get the contact information of journalists that wrote about them.
Journalists also love a good press kit, make sure you have images and press releases ready. You can find great how-to's for that on the Internet. In our experience the best press kit is written by the founders. A press agency doesn't know your product as you do and most journalists like to talk to the founders behind a product anyway.
4) Have a working prototype
This is especially important for hardware projects. It's nearly impossible to accurately calculate your cost of goods sold if you don't have working prototypes. Most people are also reluctant to support a product where the creators cannot prove that it is working. Crowdfunding hardware projects is risky and there have been several projects that failed to deliver, which has made backers more cautious.
Some crowdfunding platforms (e.g. Kickstarter) even require a working prototype and might reject your product if you can't prove that you have one. Make sure you have great images of your prototypes and don't use too many renderings. We didn't use a single rendering and got great feedback for the images of our prototypes — which we all took ourselves.
5) Prepare marketing material upfront
You will be very busy once you launched your campaign. The good thing is that you can prepare most marketing material and even some update messages beforehand. Make sure you have enough images and maybe videos and try to anticipate the most asked questions to prepare answers.
Your product video will be one of your most important (and probably most expensive) parts of your campaign. The recommended length is around 2:30 minutes, but make sure you bring your strongest point across within the first 15 seconds.
6) Get your family and friends excited
You need to get into sales mode as soon as possible, at least a few months before you launch! In the end, your startup will only survive if you find enough customers for your product. The easiest way to start selling is to pitch your idea to family and friends. If you can't even get your closest friends exited, there might be something wrong with the product.
Invite people that show interest in what you are doing regularly to your office and show them prototypes and ask for feedback. An outside view is always helpful, the more critical feedback you get at the beginning the faster you can improve!
7) Reach out to potential customers long before the launch
Family and friends are great, but they are very likely to tell you that your product is awesome because they like you. So try to get feedback from other people as well. This is where social media comes into play. Post about what you are doing and contact people that work in your industry and ask for help and advice. In our experience, most people you contact are really supportive and happy to help. The more people that know about your product upfront the better it is. And if they like it, they will tell their friends and that is exactly what you want.
We hope this list will help you prepare your campaign. All the best!!
Read more in Part 2:
6 Tips to Reach Your Crowdfunding Goal